Automate all stages of recruitment and onboarding
Create one comprehensive view for all new hire documents and tasks.
Use web forms to capture and route job applications.
Instantly send notifications to hiring managers when an application requires review.
Route hiring decisions to HR to expedite the employee onboarding process.
Automatically schedule IT provisioning, benefits enrollment and other onboarding tasks when a new employee is hired.
Download eBook: eBook Quicker Better Safer Human Resources
Streamline routine personnel tasks
Eliminate manual follow-ups with one portal for all personnel actions.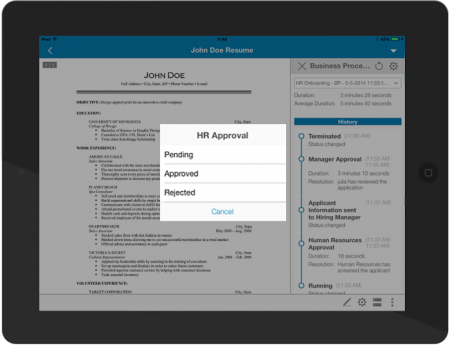 Create and host web forms on intranet sites for employees to submit travel requests, expense reports and more.
Automatically track when employees become eligible for benefits enrollment.
Schedule reminder emails for employees to review their timesheets.
Track policy acknowledgements and other employee agreements.
Integrate with existing HR applications
Instantly access employee documents in human capital management systems.
Access all employee information from a single application.
Trigger personnel workflows from third party applications.
Access supporting documents from HR applications directly in Laserfiche.