March 2021 ECS eNewsletter
In This Issue
ECS Imaging News & Events
> March Training Webinar – March 24, 2021 – Empower Highlights & What's New with Laserfiche 2021
> City of Fullerton Receives Laserfiche Government Influencer Award
> ECS Employee Spotlight – Laura Wayman, Customer Success Manager
> ECS Monthly Tips & Tricks – Search Filters
Laserfiche News & Events
> Laserfiche 11 Releasing in March for Self-Hosted Systems
> Laserfiche Cloud: Deprecation Announcement for Entities Feature
> Upcoming Laserfiche Webinars
Online Laserfiche Resources
> Laserfiche Aspire
> Laserfiche Video Gallery
> Links to Online Resources
---
ECS NEWS & EVENTS
---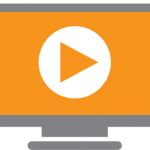 ECS Training Webinar
March 24, 2021 (10:00 AM – 11:30 AM)
This month's topics:
> Highlights from Laserfiche Empower Conference
> What's New with Laserfiche 2021
> Laserfiche Version 11
Register Here
---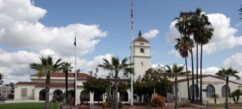 City of Fullerton Receives the Laserfiche Government Influencer Award
Congrats to Lucinda Williams, City Clerk for leading the way to success!
The Government Influencer Award recognizes influential industry leaders who exemplify leadership within the Laserfiche community and empower others to drive transformation within their organizations. The City of Fullerton was able to deliver critical processes by digitizing the candidate nomination process – all while providing excellent customer service during the pandemic. Lucinda Williams, City Clerk for the City and ECS worked closely in a short time-frame to streamline the online form process before the deadline in July.
Read More Here: ECS Customer Success Story
---
ECS Employee Spotlight – Laura Wayman
Laura Wayman
Customer Success Manager
[email protected]
ECS Team since 2020
Tech Industry: 4 years
Sales Management: 10 years

At ECS our customers are the priority and focus. We added Laura as the Customer Success Manager to be an additional resource ensuring our customers receive the utmost care and to manage our Customer Experience objectives. Our long term relationships with our customers have been a foundation of the ECS legacy and Laura will ensure our customers' needs continue to be met on a regular basis. The Customer Experience Team is responsible in helping our customers leverage all our resources from beginning to end, to help optimize their digital transformation success.
We have included her email because we want to hear your feedback and to know if we can serve you better as your Solution Provider. Your feedback is always welcome and appreciated. We look forward to a successful 2021!
---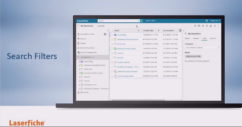 Advanced Search – User Manual
Watch Video
Search Filters
Laserfiche has powerful search capabilities available with advanced search filters. The search box lets you quickly search the repository for a term. However, if you need to fine tune your search, click Search Filters for more powerful and flexible searching possibilities. The Search Filters pane lets you configure a variety of criteria, which let you focus your search on specific attributes of documents or folders. Let's take a look at Search Filters:
> From the repository view, select Add Filter to choose search filters. (You can search by one criteria, or combine different kinds of searches).
> The Search Syntax option allows for the most advanced searching scenarios.
> When combining multiple searches only documents or folders that satisfy all the search criteria will be returned.
> In the example, the search criteria includes documents that Susan Jones has checked out and that also have the word "Contract" in their name.
> If you configure a search that you want to run often, click the Save button and give it a name.
> You can quickly run the search again using the Saved Searches drop-down menu.
---
LASERFICHE NEWS & EVENTS
---


Laserfiche 11 Releasing in March
Laserfiche 11 includes a number of new features and enhancements across the product suite for self-hosted systems.
Main highlights include:
> Direct Share: Share content securely with people outside the organization with password-protected links that can be tracked and audited centrally in Laserfiche. This will be the first out of several planned features that will allow self-hosted customers to take advantage of Laserfiche Cloud services through a hybrid architecture.
> More User-Friendly Form Designer: Design custom forms more easily than ever with a simplified drag-and-drop experience to put fields side-by-side, adjust field widths and more.
> Edit In-Progress Process Variable Values: Keep processes running smoothly with the ability for an administrator to edit form variables during runtime, such as mistyped or missing field inputs.
> Expanded SSO Support: Improved log-in experience for Laserfiche desktop-based applications, such as Quick Fields, Scanning, Snapshot and Connector with support for SAML, AD FS and MFA authentication.
> Repository User Experience Enhancements: More conveniently work across the web client with the ability to save searches, view recent searches and set custom filters in an updated search bar, print documents in a batch, and view thumbnail images of documents in the folder browser.
> More Efficient PDF Page Generation: Generate image pages for PDFs using the distributed computing cluster (DCC) via Workflow to streamline high-volume capture workflows at scale.
> Optimized Audit Trail Reporting: Increase audit trail performance by taking advantage of a rearchitected backend that no longer requires being tied to a SQL server.
Also Available with Laserfiche 11 Self-Hosted Systems – Hybrid Cloud Services:
> Smart Invoice Capture – A Smart Invoice Capture profile is a pre-configured profile that uses machine learning to automatically capture data on any invoice, specifically the invoice date, invoice number, purchase order number, and total amount due.
> Laserfiche Workflow Bots – use robotic process automation technology to let you easily configure software bots to automate repetitive, routine work between multiple systems.
Please contact your ECS account representative for pricing and additional information. And join us in our March Webinar to learn more.
---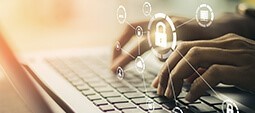 Laserfiche Cloud: Deprecation Announcement for Entities Feature
As of March 31, 2021, Laserfiche will be deprecating the Entities feature in Laserfiche Cloud.
Entities has been replaced with Lookup Tables, which provides a simple way to manage data locally in the cloud by simply uploading an Excel or CSV file to query for lookup purposes. As Entities is no longer supported, customers should be using Lookup Tables which offers easier data management, higher performance, and additional functionality.
If you do not have Entities data you wish to keep, you will experience no impact when Entities is turned off.
If you have created an entity model, you may need to verify if you have any data you wish to still keep before the feature is removed from your account.
If you do have Entities used in production processes or holds important information, please contact your ECS representative to schedule a time to assist with migrating to Lookup Tables by the deprecation date.
---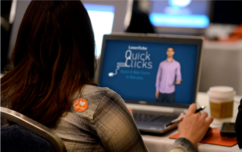 Upcoming Laserfiche Webinars
Receive insight on:
> Best practices for going paperless
> Records management and compliance
> Strategies to automate business processes
> Integration with line of business applications
Join an upcoming webinar or watch an on-demand webinar now:
March 9, 2021 – What's New in Laserfiche
March 25, 2021 – Coming Attractions in Laserfiche
Webinars start at 11:00AM (PT). Please also see On-Demand Webinars
Register for Webinars Here
---
LASERFICHE RESOURCES
---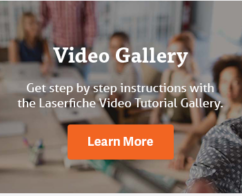 The Aspire Learning Center
Aspire provides a Video Gallery with tons of new videos of all lengths and topics for all learning levels. Log onto the Laserfiche Support Site and start learning.
Laserfiche Aspire
The Laserfiche Video Gallery
The Laserfiche Video Gallery is an excellent place to find short how-to videos with step-by-step instructions on how to perform a variety of functions and tasks within the Laserfiche suite of applications.
Laserfiche Video Gallery
---
Laserfiche Video Gallery
Laserfiche YouTube Channel
Laserfiche Overview Video
Laserfiche Windows Manual
Laserfiche Scanning Manual
Laserfiche Cloud Manual
Laserfiche Certification
Laserfiche Support Site
Laserfiche Solution Exchange
Laserfiche Answers
Laserfiche Case Studies
Laserfiche Webinars
Laserfiche Resource Center
---
To Our Loyal Customers:
ECS wants to assure our customers that we are available to assist you by phone or remote access for your Laserfiche support and training needs. We are available from 7:30 AM – 5:00 PM Monday – Friday. For technical support requests please email [email protected] or call 877-790-1600. We thank you for your loyal support and sincerely appreciate your business. We look forward to seeing you soon.
---
Thank You For Reading the ECS eNewsletter





Corporate Headquarters
5905 Brockton Ave., Suite C
Riverside, CA 92506
Northern California Regional Office
5052 Forni Dr. , Suite A
Concord, CA 94520
(877) 790-1600
(951) 787-8768