Workflows & Automation Save the Day for Busy City Employees
The City of Newport Beach is your quintessential coastal California town. With a beautiful harbor and miles of beach, it's a draw for those looking to relocate and tourists alike. Today, the City of Newport Beach's population is just over 86,000 residents. With a large population like that, it's important for the City to have pristine systems in place to provide high quality service to those who need it.
Twelve years ago, The City of Newport Beach set out to find a reliable document management system that provided transparency, stability, automation, enhanced security, and one easy place to search for all City documents. After conducting some research, City representatives learned that Laserfiche was the perfect solution for them.
In the past twelve years, the needs for Laserfiche City-wide have grown tremendously, with twelve of City's thirteen departments now using the system. Primarily, aside from the document repository, the City uses Quickfields, Workflow, Import Agent, Connector and Weblink. In the graphic below, you can see how these modules are used across departments.
Laserfiche Success in the City Clerk's Office
Within the City of Newport Beach, the City Clerk's office is one of the most robust users of the Laserfiche software. They use Laserfiche to streamline their processes for council meetings, contracts, deeds, tract maps, annexations, city owned properties, council policies, and regulations and ordinances. It's clear that Laserfiche provides tremendous value for each of these uses, but there's one clear use case that has proven to provide the most impact: contracts management.
Prior to implementing Laserfiche, it would take about 15 minutes for each contract to be scanned, converted to the correct format, routed, and stored in the correct location. Today, storing each file takes just 3 minutes, and document scanning is the only manual part of the process.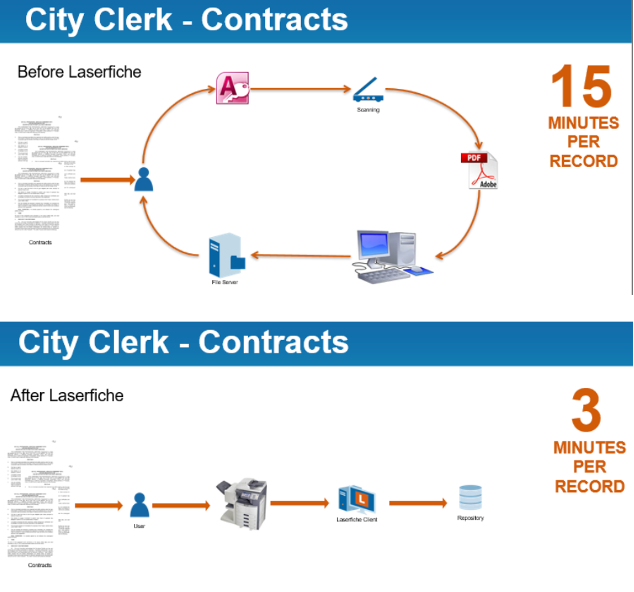 Using Laserfiche in Community Development
Another department of the City of Newport Beach that has seen a tremendous impact from Laserfiche is Community Development (CDD). They use Laserfiche for many things, like meeting minutes, resolutions and ordinances, agendas, plans, documents, PA, and code enforcements, but the biggest transformation was to their permitting system.
Inspired to create a better process for managing and filing permits, the City of Newport Beach developed a way to barcode, scan, and process permits in one shot. This reduced the time it took to file permits from 4 weeks to less than 1 minute per final permit.
Their online system, powered by Laserfiche's ESRI integration, allows the general public to view active building permits throughout the city.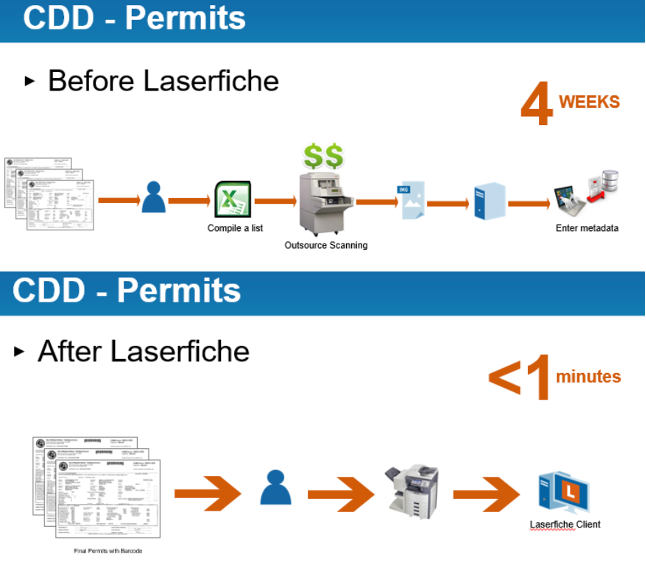 From document management to automation and everywhere in between, it's clear that the City of Newport Beach has seen great success with Laserfiche and ECS Imaging! With thousands of hours saved per year and a more productive staff, they will continue to see the benefits of Laserfiche long into the future.
To begin your Laserfiche journey, contact ECS Imaging today!