March 2023 ECS Imaging Newsletter
Upcoming ECS Events
March 2023 Southern California User Group
Join us for this informative training workshop as the City of Temecula shares their latest innovative and automated Laserfiche solution. Additionally, ECS will present our latest and greatest automated solutions and we will also be answering questions during our Training Q&A and Open Forum. Check-in starts at 10:30 AM.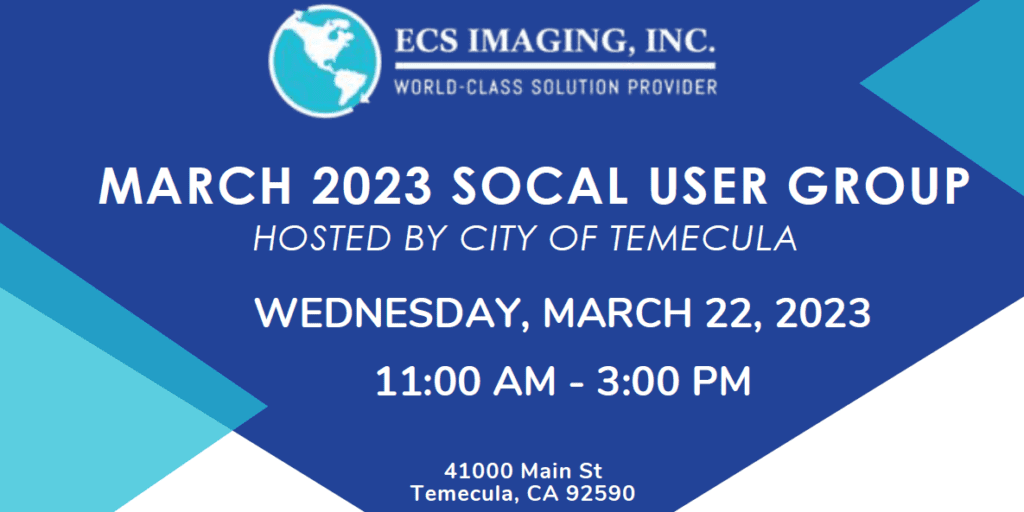 ---
March 2023 Northern California User Group
Our Northern California User Group will be hosted by the City of American Canyon who will be demonstrating their latest Laserfiche success. ECS will also provide demonstrations of our latest automated solutions. Plus Training Q&A and Open Forum. Check-in starts at 10:30 AM.
---
ECS Imaging VIP Reception at Empower
Are you attending the Laserfiche Empower Conference? Come join us for a special VIP reception following the Laserfiche event on May 31, 2023 from 7:00 – 9:00 PM. Please let us know by registering using the button below. We will provide an update once a location has been determined.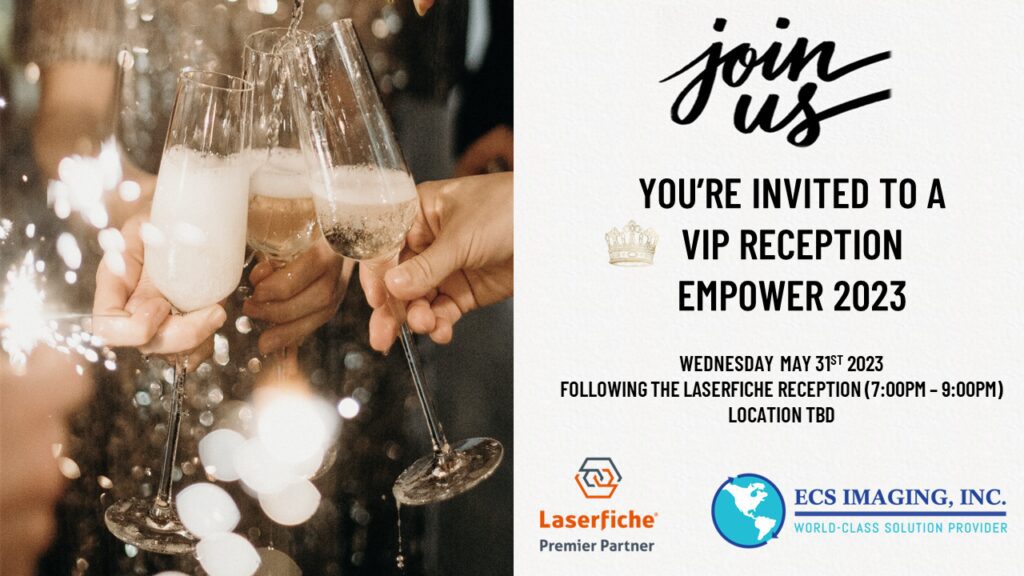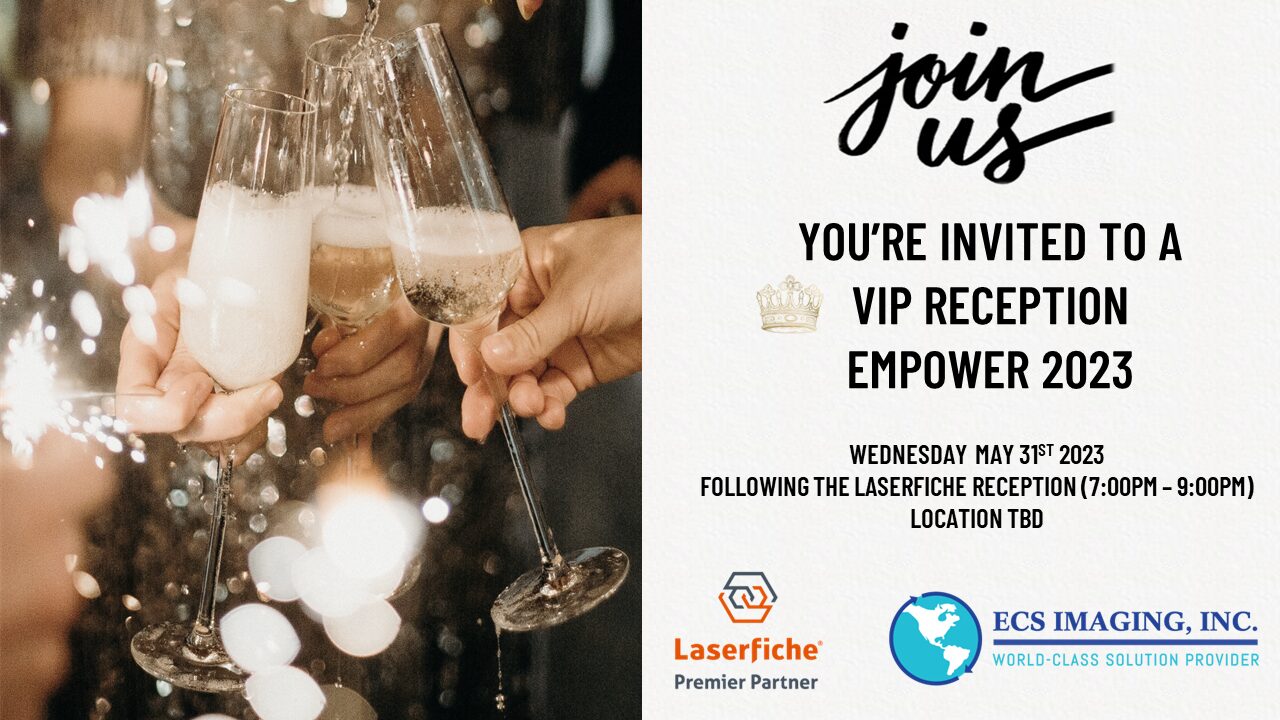 ---
Laserfiche Empower 2023 Passes
As a Thank You to our customers, ECS is offering complimentary General Passes or 50% off the cost of Lab Passes for the 2023 Laserfiche Empower Conference in Long Beach May 31 – June 1. Please contact your Customer Success Manager or email sales to get your pass today. Class are getting full. If you're interested in joining, please let us know as soon as possible to get registered.
---
Ricoh is Rebranding Fujitsu Scanners
Ricoh recently announced that the company is rebranding Fujitsu scanners Starting April 2023. Ricoh will only replace the Fujitsu name on the device—model names will not be changed. If you are looking for desktop scanners ECS can help! Contact your Customer Success Manager or email sales to find out more.
---
Laserfiche News
Laserfiche 11 Self-Hosted Updates
Recently there was a substantial update released for version 11 that would provide more capabilities and benefits in the following products: Laserfiche 11, Workflow 11, Laserfiche Forms 11, Web Access 11, and Directory Server 11. Full details of all the enhancements and fixes included in this update can be found in the KB article here. Full details of all of the enhancements and fixes included in this update can be found in the KB article Laserfiche 11 Download Package – Knowledge Base. Let our [email protected] know if you would like to schedule an update soon.
Forms Updates
Process approvers can approve tasks with buttons embedded in task emails. And user task properties are now available in the reminder emails to give user more context when completing tasks. you can also add multiple action buttons to forms. Process administrators now have more control over business process instances and can reopen completed and terminated instances and update file upload variables for in-progress instances. Forms Designer has more out-of-the-box JavaScript support that requires no coding, dynamic validation of field values and search and pagination in form tables and collections.
Audit Trail Updates
Forms Professional now includes Starter Auditing features which track user and process activities taking place through Laserfiche Forms. This helps organizations to meet compliance requirements when using forms to collect sensitive data. Administrators can now create a report on actions audited in Laserfiche Forms from the Audit Trail reporting page.Laserfiche API
The Laserfiche API Server includes a RESTful API and language-specific libraries to enable developers to quickly build integrations with Laserfiche.
---
The Laserfiche Cloud 2022.2 release is now available!
New Team Developer Role: Build Processes Securely
Now users with the Team Developer role who have Process Automation access can now develop within a team's projects. Previously, users would need an account-wide Process Automation Developer role in order to do so. This update lets users develop within a project without being able to see Global items. This removes a global access hurdle and creates more opportunity for local control and independence to create better processes more securely.
Global Resource Sharing Update: Gives Global Control and Visibility of Processes
A project listing page is now available under the Teams section in Process Automation which allows Process Administrators to manage Global resources that projects may have access to as well as see all projects that are within their Laserfiche system.
Layout Designer Improvements: Design More Customized Forms
More methods have been added to the LFForm object to allow changing field settings, form settings, field rules and adding rows and sets to tables and collections. Additionally, two events have been added for lookup trigger and lookup done.
When there are fields on the form with duplicate names, sometimes it is not clear which field is associated with a field ID or variable name. Now when you are in the rules tab, the info tag for each field appears.
AccountID Added to Laserfiche URLs for a Smoother User Experience
Laserfiche URLs created from tasks in business processes or from the Copy URL option in the repository now include the account ID. That means when a Laserfiche user clicks these URLs, the account number auto-populates on the Laserfiche sign-in page, removing friction from the user experience.
New Solution Templates Now Available
New solution templates include a sample integration with Google Cloud's Sentiment Analysis API, a network access request and an early identification of mental illness process. To learn more about these new features, check out the feature release summary video.
---
Update to Laserfiche's Privacy Notice and Data Processing Addendum
The Laserfiche Privacy Notice which applies to the use of the Laserfiche Cloud environment and includes updates to address new legal requirements, including how to exercise new rights available to some users. And updates to the Global DPA for new legal requirements.Privacy Notice
Laserfiche Data Processing Addendum