June 2023 ECS Imaging Newsletter
Upcoming ECS Events
ECS Imaging June Webinar: Laserfiche Empower 2023 Recap
Join us for this overview of the best of the best from Laserfiche Empower 2023.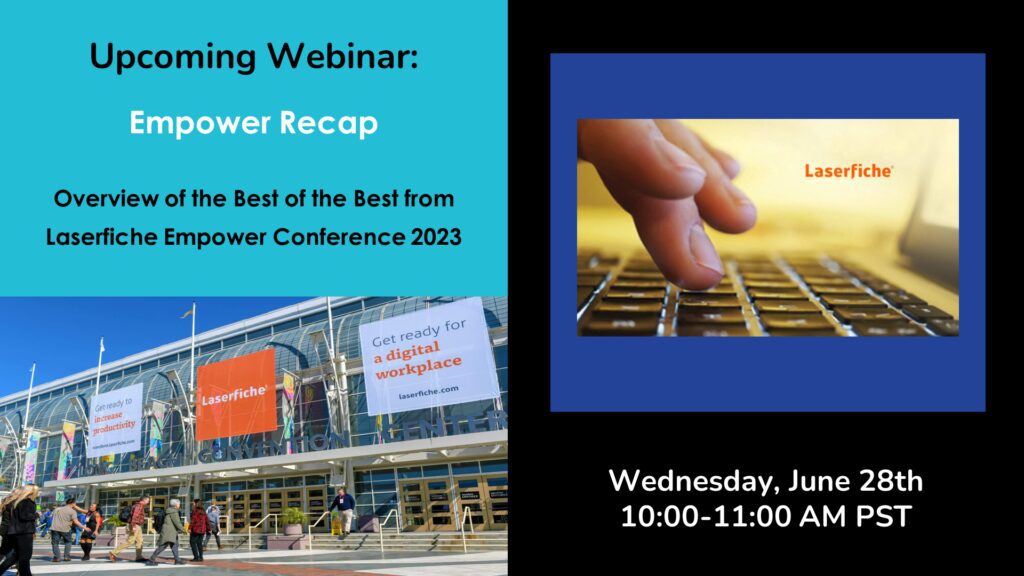 ---
Save the Dates for the ECS Imaging Annual Conference
ECS Imaging's Annual Conferences are coming up in the fall and we are providing two days of Laserfiche training at both Southern and Northern California locations. Registration, and more information to follow.
Southern California – City of Temecula (9:00 AM – 5:00 PM)
Day 1: October 18, 2023 – General Track
Day 2: October 19, 2023 – Technical Track
Northern California – City of Dublin (9:00 AM – 5:00 PM)
Day 1: October 25, 2023 – General Track
Day 2: October 26, 2023 – Technical Track
---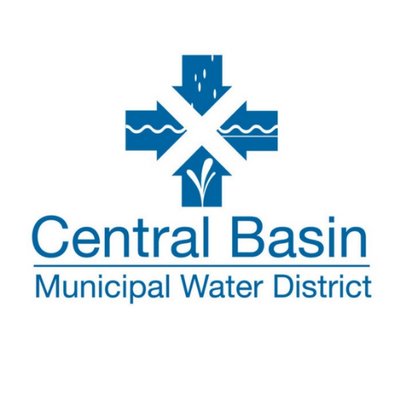 Customer Success Story: Central Basin Municipal Water District
Automated Accounts Payable Process with Laserfiche: Approved
Central Basin Municipal Water District is a water wholesaler providing imported water to 40 retail water providers in southeast Los Angeles County. The district serves 1.6 million people from 24 cities including unincorporated areas of southeast Los Angeles.
---
Automated Invoice Capture Using Laserfiche Cloud Smart Invoice Capture
Smart Capture uses machine learning technology to capture information from any invoice, in any format. Accurately identify, capture, and classify invoice information. Automatically populate accounting systems or ERPs with captured invoice information. Gather information from invoices filled out by hand and save it as searchable metadata.
Please see More | Try the Smart Capture Preview | Watch the ECS Demo Video
---
Laserfiche News
---
What's New in Laserfiche Cloud
Business Process Updates – You can now add more action buttons to your forms besides the standard Submit, Approve, and Reject buttons. Then you can route your forms based on whatever action button was selected. With action history now included in email notifications, users can have more context before processing tasks.
Layout Designer Updates – You can now add or remove CSS classes from fields, control the default comment box behavior with field rules, easily navigate to the CSS with a new button on the form's toolbar, and control the allowed input types for Laserfiche signatures.
Web Client Updates – All URL links to folders or documents inside a repository will now automatically fill in the account ID for recipients, matching the behavior of our previously released Copy URL feature.
IPaaS Updates – The "Getting Started with Laserfiche" Boomi Recipe includes pre-built processes to help you connect both Laserfiche self-hosted and cloud systems and your other essential business tools through Boomi.
​New Solution Templates – The Solution Marketplace includes a new workflow with loops template that provides use cases for implementing workflow iteration mechanisms.
---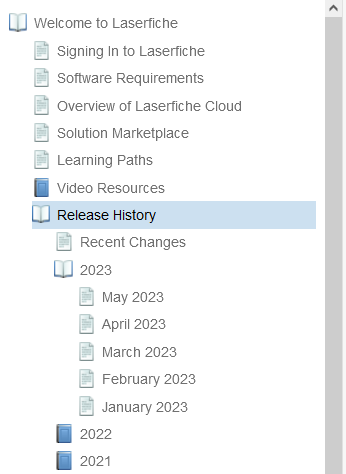 Laserfiche Cloud Release History and Recent Changes
You can easily check the Cloud Release History from the Laserfiche Cloud User Guide. Changes are listed by year and month. You can also see Updates and New Features released by year and month. Updates provides a short video highlighting the new features and functionality for each month. To get to the Release History, click on the link above, then click Welcome to Laserfiche, then Release History as shown in the adjacent image.
---
New Laserfiche Courses Available
Using Starting Rules in Laserfiche 11 – This course demonstrates to viewers how to create a starting rule, test it, and use search options to see how their starting rule caused their workflow to run. This course is specific to Laserfiche 11. Course Length: 21 minutes.
Building a Basic Workflow in Laserfiche Cloud – In this course, you will learn how to build a basic workflow that automates a city government business process. This course is based on Laserfiche Cloud. Course Length: 25 minutes.
Capture Strategies – In this course, you will learn about all the different ways to capture information into Laserfiche. Course Length: 32 minutes These eLearning course can be accessed in Aspireat no cost. Login required.
---
New Manufacturing Whitepaper
Introducing our new Manufacturing Whitepaper: Making Automation Accessible, Connectability Universal & Workforce Eager to Contribute. As early automation programs are proving successful and operators are growing more comfortable with these concepts, the savvy manufacturer is turning toward hyperautomation.
---
Most Popular White Papers Now Available in Aspire!
As part of the Laserfiche initiative to make Aspire the one stop shop for your Laserfiche learning needs and to increase visibility of the most popular resources, Laserfiche has added the top white papers on the Support Site into Aspire. These white papers are still available on the Support Site for those that have them bookmarked or use the Support Site regularly.