February 2021 ECS eNewsletter
In This Issue
ECS Imaging News & Events
> February Webinar – Laserfiche Empower Conference
> ECS Customer Success Story – City of Millbrae
> ECS Monthly Tips & Tricks – Configuring a Form's Style
> Employee of the Year- Chad Rodriguez
Laserfiche News & Events
> Laserfiche Sales Promotion for 2021
> Laserfiche 11 Coming Soon!
> Now in Laserfiche Cloud
> Laserfiche SDK 10.4 Released
> Empower 2021 Professional Development Sessions
> Virtual Networking Events at Laserfiche Empower 2021
> Join the Laserfiche Empower Facebook Group
> Upcoming Laserfiche Webinars
Online Laserfiche Resources
> Laserfiche Aspire
> Laserfiche Video Gallery
> Links to Online Resources
---
ECS NEWS & EVENTS
---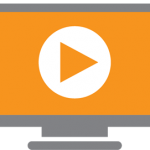 ECS Training Webinar
Laserfiche is holding their weeklong Empower Conference the last week in February.
Everyone is invited and can have access to the Empower digital experience on Tuesday and Wednesday with a Free Essential Pass! This will include the Keynotes, select content and networking at no cost. For the Free Essential Pass CLICK HERE to register directly.
If you would like to attend with a Power Pass access, please contact us at [email protected]ecsimaging.com. ECS will resume our regularly scheduled Monthly Webinar in March.
---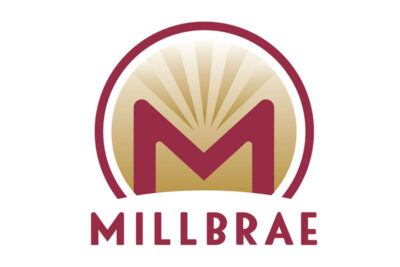 ECS Customer Success Story – City of Millbrae
Laserfiche Cloud & Automation Provides Benefits City-Wide
The City of Millbrae is located about 15 miles south of San Francisco on the peninsula adjacent to San Francisco International Airport, and has a population of just under 30,000 residents.
As a small city, Millbrae needed a reliable system to manage documents and processes that would be easy to use and easy to manage. The City worked with their consultant Kaizen Infosource to release an RFP in 2018…
Read Story
---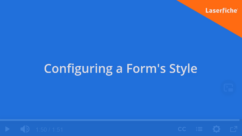 Configuring a Form's Style
Laserfiche Forms lets you style your Forms to match your company's branding, or fit your department's needs.
> Once you've created a Form in Forms Designer, open the Themes tab.
Laserfiche offers a variety of default themes for you to choose from
> Selecting a theme automatically applies it to the Form
> To create a custom style, open the Customize tab (a variety of options let you customize almost every aspect of the Form)
> Let's check out at a few of the options:
> From the Logo option add am image to the top of your Form (you can insert an existing logo or upload an image from your computer, and configure its position and size)
> In the Fields section, you can define the font type, color, size, and style for the field label and the field body
> The Buttons section lets you configure text and background color for buttons on your Form (this can be helpful to draw attention to the button)
> Explore all the options on this page until the Form looks like you want it to
> If you want to reuse this style on another Form, click Add to Custom Themes at the top of the page, name the Theme and save it. The Theme will now be listed in the top section of the Themes tab and can be applied with one click
> If you styling needs to extend past the options provided here the CSS and JavaScript tab allow you to further customize the elements on your Form
See Documentation Watch Video
---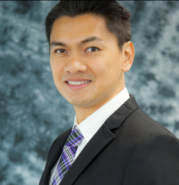 ECS Employee of the Year- Chad Rodriguez
ECS honored Chad with the 'Employee of the Year 2020' at our annual end of year celebration. 2020 was a year of many changes and the need for fluid responses to the ever changing times. With Chad's agility and leadership over the technical department, we were able to successfully assist our customer's urgent needs for COVID-19 initiatives, new automation and remote requirements, all while upgrading our internal technologies.
Chad went above and beyond the call of duty and we are grateful to have him leading our Technical Team and his contribution on the Executive team as CTO. His care and dedication is demonstrated with more than a decade of expereince at ECS providing exemplary legacy to our mission.
---
LASERFICHE NEWS & EVENTS
---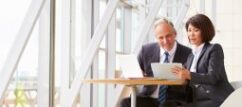 Laserfiche Sales Promotion for 2021
Promotion A:
This promotion extends a 20% discount off first-year subscription fees, after prorated LSAP credit has been applied, to any current Laserfiche customer that upgrades to the Professional or Business tiers of Laserfiche Cloud or Subscription.
Promotion B:
This promotion extends a 50% discount off first-year subscription fees, after prorated LSAP credit has been applied, to any current Laserfiche Team/United customer that upgrades to the Professional or Business tiers of Laserfiche Cloud or Subscription.
To learn more about the new licensing for Cloud and Subscription Self-Hosted which provide many valuable and bundled features with tiered pricing click here. Please contact your Account manager for questions and if you would like more information. We are happy to discuss the many benefits and advantageous to find the best fit for your organization.
---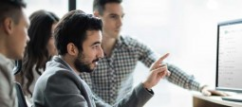 Laserfiche 11 Coming Soon!
Laserfiche 11 will include a number of new features and enhancements across the product suite for self-hosted and on-premises systems.
Direct Share: Share content securely with people outside the organization with password-protected links that can be tracked and audited centrally in Laserfiche. This will be the first out of several planned features that will allow self-hosted customers to take advantage of Laserfiche Cloud services through a hybrid architecture. Direct Share is a module that can be purchased and added to your system once on version 11.
More User-Friendly Form Designer: Design custom forms more easily than ever with a simplified drag-and-drop experience to put fields side-by-side, adjust field widths and more.
Edit In-Progress Process Variable Values: Keep processes running smoothly with the ability for an administrator to edit form variables during runtime, such as mistyped or missing field inputs.
Expanded SSO Support: Improved log-in experience for Laserfiche desktop-based applications, such as Quick Fields, Scanning, Snapshot and Connector with support for SAML, AD FS and MFA authentication.
Repository User Experience Enhancements: More conveniently work across the web client with the ability to save searches, view recent searches and set custom filters in an updated search bar, print documents in a batch, and view thumbnail images of documents in the folder browser.
More Efficient PDF Page Generation: Generate image pages for PDFs using the distributed computing cluster (DCC) via Workflow to streamline high-volume capture workflows at scale.
Optimized Audit Trail Reporting: Increase audit trail performance by taking advantage of a rearchitected backend that no longer requires being tied to a SQL server.
Hybrid Solutions Now Available:
Smart Invoice Capture: Smart capture uses machine learning technology to capture information from any invoice, in any format.
Workflow Bots: Laserfiche Bots use robotic process automation technology to let you easily configure software bots to automate repetitive, routine work between multiple systems.
Laserfiche 11 Release Overview Webinar
February 17, 2021
10:00 AM PST
Join the Laserfiche 11 Release Overview Webinar
---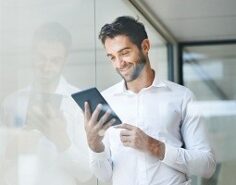 Now Live in Laserfiche Cloud
Automatically Fill PDF Forms: Save time and reduce manual data entry by using an enhanced document merge activity that pushes information to fillable PDF form fields.
Invoice Vendor Identification: Further maximize AP productivity and reduce manual invoice processing with expanded Smart Invoice Capture capabilities to automatically capture vendor name from any invoice format.
Repository Search Bar Improvements: More conveniently perform searches directly from the search dropdown bar with the ability to save searches, view recent searches and set custom filters.
Modern Form Layout Designer Enhancements: Set formulas, add URL parameters to fill fields and more with expanded support in the new form designer.
Improved Process Promotion: Automatically update active process instances to the latest version upon import.
---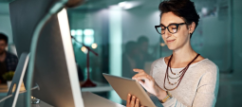 Laserfiche SDK 10.4 Released
Laserfiche Software Development Kit 10.4 provides tools for creating programs that interact with Laserfiche self-hosted versions 10.3 and 10.4. The package includes the integration libraries, documentation, sample code for using the libraries and tools for distributing your programs.
For more information, check out the list of changes and release notes.
If licensed Download Laserfiche SDK 10.4 here
---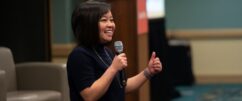 Empower 2021 Professional Development Sessions
These sessions are designed to help business and technology professionals build critical skills needed to succeed in today's business environment. Below is a list of upcoming Empower 2021 professional development courses:
ISACA CSX Cybersecurity Fundamentals
Brush up on your cybersecurity knowledge with this professional development course led by experts from ISACA, the premier global association for IT professionals and aiding enterprise transformation, serving more than 145,000 members in over 188 countries worldwide.
Dealing with Remote Workforce: Tax and Benefits Issues
To prevent the spread of COVID-19, state and local governments have issued stay-at-home orders, effectively mandating remote work in many sectors. Even if not mandated, many employers have opted to allow their employees to work from home. Employers should be aware that these remote working conditions may inadvertently trigger international tax, state and local tax, and employee benefit issues.
Change Management Bootcamp
Buy-in is critical to making organizational change happen, especially when you're building support for a technology initiative. This day-long bootcamp, led by Melissa Henley, Laserfiche Director of Customer Experience, covers the essentials of driving change.
Virtual Executive Leadership Summit
An exclusive virtual forum that will explore how economic pressures have reshaped a technology-centric business model across industries. Join your peers leading digital transformation in diverse industries to obtain perspectives on driving organizational growth through unprecedented change.
Register Now for Laserfiche Empower 2021
---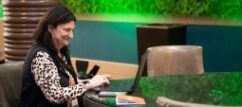 Virtual Networking Events at Laserfiche Empower 2021
Build your network at Empower. With a slew of networking events designed for change-makers like you, Empower offers opportunities to meet like-minded professionals in industries and job roles that face similar challenges.
Role and industry-based user groups – discuss and learn about unique business challenges with professionals in similar roles and in your industry.
Diversity and inclusion workshops – gain valuable insights and actionable advice on creating a safe and equitable workplace.
Technology Q&As – get face time with Laserfiche developers and industry experts, discussing topics including DevOps and the future of Laserfiche.
CEOs and coffee – grab a fresh cup and join our executive team for discussion on a wide variety of topics important to those eager to drive change within their organizations.
Networking events and games – play trivia with your fellow attendees and form new connections with other professionals looking to thrive in this new world of business.
Register now for the Empower 2021 Power Pass to get access to these networking events, plus on-demand access to exclusive conference content.
---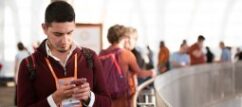 Join the Laserfiche Empower Facebook Group
Even though Empower 2021 will be completely virtual this year, we are still dedicated to bringing you the networking opportunities that are a vital part of the conference.
To create opportunities for you to connect with attendees, we've created a private Empower 2021 Facebook group.This group is the equivalent to the Empower app at Empower 2020, with opportunities to discuss Laserfiche-specific topics and to provide a space for customers to get to know you personally.
To join, please visit the Laserfiche Empower 2021 Community Group page
---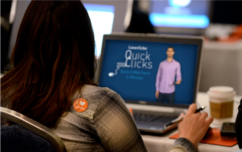 Join an upcoming webinar or watch an on-demand webinar now:
Receive insight on:
> Best practices for going paperless
> Records management and compliance
> Strategies to automate business processes
> Integration with line of business applications
February 9th, 2021 – A Sneak Peek at Empower 2021
March 9th, 2021 – What's New in Laserfiche
March 25, 2021 – Coming Attractions in Laserfiche
Webinars start at 11:00AM (PT). Please also see On-Demand Webinars
Register for Webinars Here
---
LASERFICHE RESOURCES
---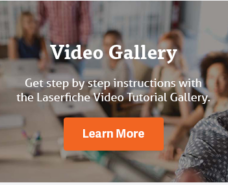 The Aspire Learning Center
Aspire provides a Video Gallery with tons of new videos of all lengths and topics for all learning levels. Log onto the Laserfiche Support Site and start learning.
Laserfiche Aspire
The Laserfiche Video Gallery
The Laserfiche Video Gallery is an excellent place to find short how-to videos with step-by-step instructions on how to perform a variety of functions and tasks within the Laserfiche suite of applications.
Laserfiche Video Gallery
---
Laserfiche Video Gallery
Laserfiche YouTube Channel
Laserfiche Overview Video
Laserfiche Windows Manual
Laserfiche Scanning Manual
Laserfiche Cloud Manual
Laserfiche Certification
Laserfiche Support Site
Laserfiche Solution Exchange
Laserfiche Answers
Laserfiche Case Studies
Laserfiche Webinars
Laserfiche Resource Center
To Our Loyal Customers:
ECS wants to assure our customers that we are available to assist you by phone or remote access for your Laserfiche support and training needs. We are available from 7:30 AM – 5:00 PM Monday – Friday. For technical support requests please email [email protected] or call 877-790-1600. We thank you for your loyal support and sincerely appreciate your business. We look forward to seeing you soon.
---
Thank You For Reading the ECS eNewsletter