South Tahoe Public Utility Department
Protecting Lake Tahoe with Laserfiche Forms: A 2022 Run Smarter Award Finalist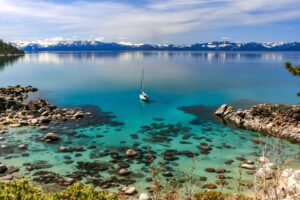 When it comes to beautiful locations in the United States, Lake Tahoe certainly makes the list. With its glistening waters and picturesque mountain surrounds, it's a dream for outdoor adventurers and leisure travelers alike. Though, with tourism and increased lake use comes potentially hazardous and dangerous pollutants to the crystal-clear waters.
One organization working to protect the lake is the South Tahoe Public Utility District (STPUD), who provides water and sewer services to South Lake Tahoe residents and visitors. They work to balance heavy tourist water and sewer needs by maintaining the aging system which keeps the lake clean.
As ECS Imaging customers since 2009, they knew that Laserfiche had the potential to help them execute their mission in new ways. In collaboration with ECS Imaging, they've innovated a new usage of Laserfiche Forms and Workflow In order to collect and analyze the system data they need.
Gathering and Assessing Data with Laserfiche
In order to make this process work, the district employees are using Laserfiche Forms in the field to gather data and store it in SQL databases. Since Laserfiche Forms is mobile, field agents can use offline Forms to collect data from the remote locations they serve. When the field agent returns to the plant, this data is synced to the server for analysis.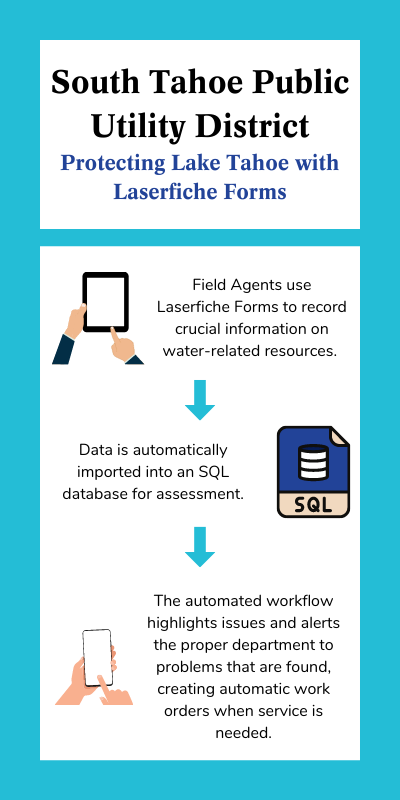 This robust reporting process and the resulting Workflow allow the data collected to be reviewed and reported on as a whole. The automated workflow highlights problem areas and automatically creates work orders when service is needed, exponentially trimming down the time it takes to notice a possible issue. By using Laserfiche Forms in the field, the District has been able to collect data on Wells, Sewer Stations, Booster Stations, valves, water mains, leaks, fire hydrants, and laterals.
Before using Laserfiche, issues were handled reactively when there was a problem. Daily logs and inspections were written on paper and scanned into Laserfiche, but there was no easy way to use that data. This new data collection method allows for preventative maintenance and targeted repair through aggregate data reporting. The data that is collected is put into a SQL database through Workflow, giving it endless uses, applications, and integrations.
Being able to report on trends and utility use hours has changed the way the District maintains their assets. Not only does this save the utility users money by enabling efficient and effective repair, but it also keeps Lake Tahoe clean and bright by stopping spills and leaks before they happen.
A New System Put to the Test
This data collection method and the resulting Workflow were recently put to test during the Caldor Fire of 2021. Because the South Tahoe PUD had collected data on fire hydrants, they were able to easily pull up a SQL report to determine which hydrants had the most water pressure and which hydrants needed service in the weeks leading up to when the fire would reach south Lake Tahoe. This allowed them to put their resources on fixing the hydrants that needed it, in order to better contain the fire to save homes and lives.
In conclusion, the data collected through Laserfiche Forms has truly transformed South Tahoe PUD's ability to view and maintain their systems. They can be more efficient in their maintenance and more easily target problem areas in a proactive way through trend analysis. Laserfiche Forms and Workflow are a critical part of the District's goal to provide services and protect Lake Tahoe. It is because of this great success that STPUD was a finalist for a 2021 Laserfiche Run Smarter Award.