February 2023 ECS Imaging Newsletter
Upcoming Webinar
As organizations increase their digital footprint they are left with the pressing question; How can we ensure our data is safe? Join us as we review current Trusted Systems Compliance Polices and how you can update your Laserfiche Repository to meet local standards with special guest speaker from Kaizen InfoSouce LLC. Kaizen InfoSource LLC is a leading consulting firm who puts a high focus on taking the complexity out of change management.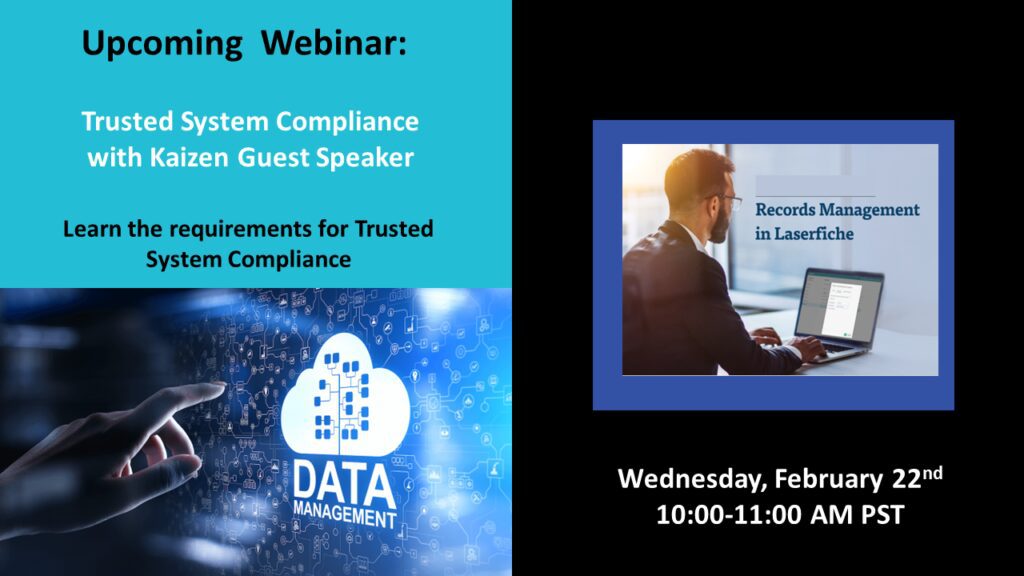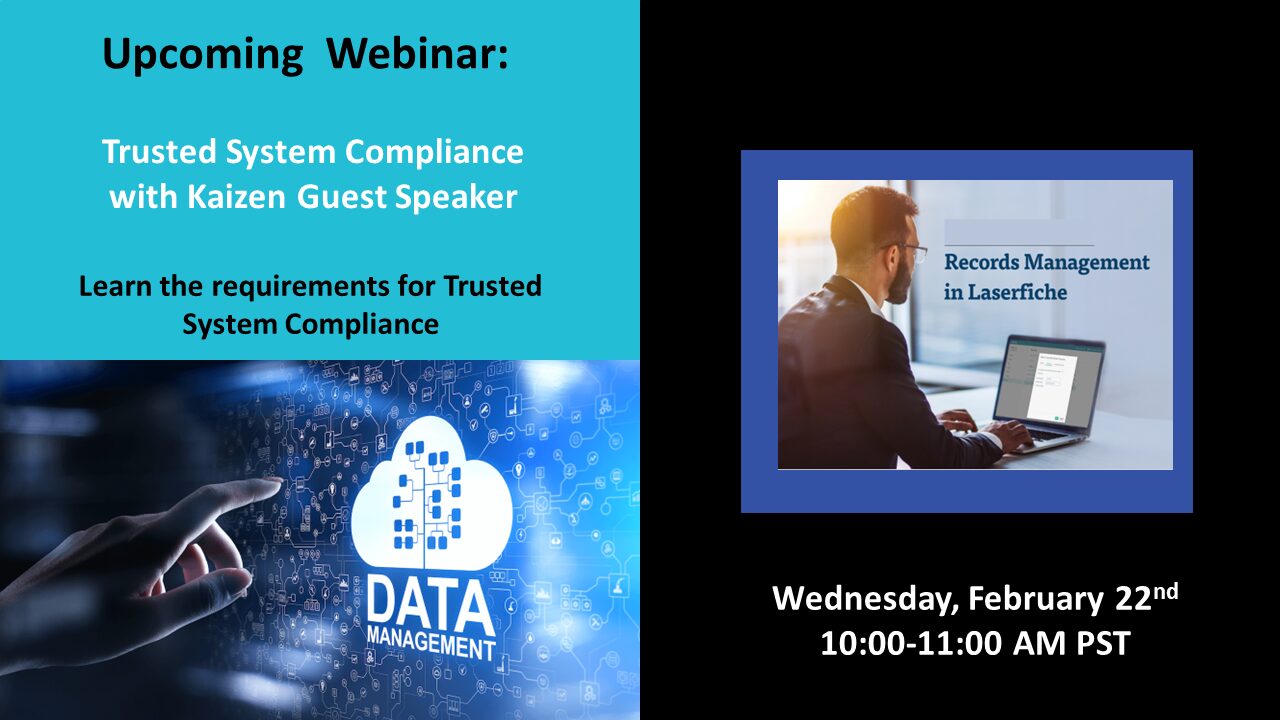 ---
Customer Success Story: Truckee Donner Public Utility District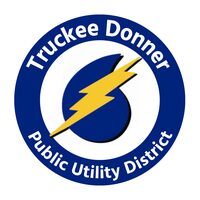 Hitting the Ground Running from Day One
Located on the stunning shores of Lake Tahoe is the Town of Truckee, California. In this town, the Truckee Donner Public Utility District provides crucial water and electricity resources within the 44-square mile service area.*Read Success Story*
---
Ready to Get More Features in 2023?
Learn more about Laserfiche Cloud and Subscription Self hosted platforms. Whether you want your system to be hosted as a SaaS or you want to host it yourself, these new licensing models include most of the product suite bundled together for you. If you're on Avante, Rio or United licensing, we would like to show you the latest benefits to upgrade and get more features available to you. Please contact your Account Manager.
---
ECS Imaging is now a Laserfiche Premier Partner

Premier Partners have partnered with Laserfiche to help you meet your business needs. ECS is a certified and authorized Laserfiche partner for the last 28 years. This new Partnership standard assures our customers we have passed new benchmarks for Customer Success, Satisfaction and expertise in the product. ECS is your strategic partner for Laserfiche Digital Transformation from the beginning of your project and for many years to come. Our commitment to our customers success is what drives us every day exemplified by our proven track record and support from you.
---
ECS is Here For You! Contact Our HelpDesk
ECS Imaging is customer focused, we want to assure you that we are available to assist you by phone or remote access for your Laserfiche support and training needs. We are available from 7:30 AM – 5:00 PM Monday – Friday PST. For technical support requests please email [email protected] or call 877-790-1600, option 6.You can also contact our HelpDesk to schedule your upgrade or update to Laserfiche 11.
---
Laserfiche News
Exciting New Features in Laserfiche Cloud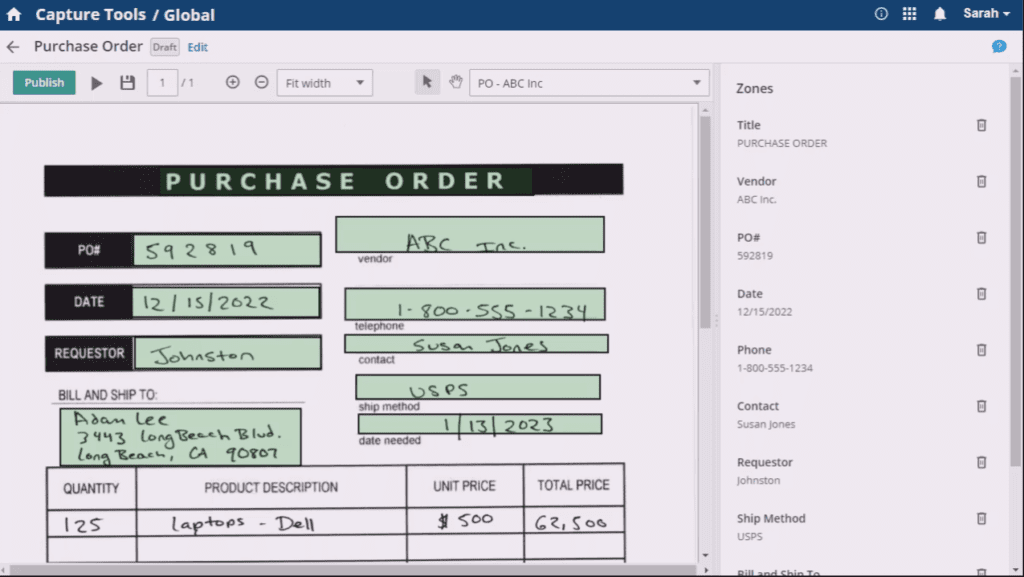 Handwriting Recognition – Capture Profiles provide support for capturing handwritten text. This innovative feature allows organizations to extract handwritten text from semi-structured documents, to better serve their communities and expand the footprint of their business process automation.
Full-Text Search of Audio and Video Files – Laserfiche has added full-text searchability to audio and video files stored in Laserfiche Cloud. You can now extract text from audio and video files such as voicemails or video meeting recordings.
---
2023 Cloud Release
Project Security Migration – Take advantage of the additional security and classifications available with project security, by migrating existing forms and business processes from the Global project to a specific project. Administrators can also migrate forms and business processes from a specific project to Global.
Note: Starting 1/12/2023, inactive remote agents (defined by both 3 months of inactivity and not matching the current minor release version) will be disabled. You will need to install the newest version in order to have an active remote agent. This update will not affect any running processes, only remote agents that have not run processes in 3 months. Check out the details of this release here.
---
Laserfiche New iPaaS Integration Now Available
iPaaS, or integration Platform as a Service, is a platform that standardizes how applications are integrated into an organization, making it easier to automate business processes and share data across applications. You can now scale process automation with 100s of applications across the entire organization. iPaaS gives you a way to bridge the gap between different applications, cloud, and on-premises solutions and is highly effective for state and local government. Check out the pre-built integrations with Laserfiche here.
---
Gartner Peer Insights 'Voice of the Customer': Content Services Platform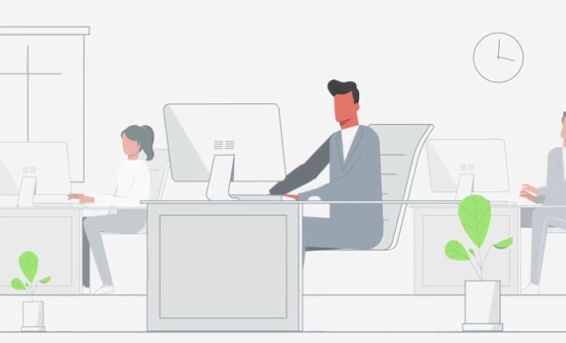 Laserfiche has been selected as a Customers' Choice in the Content Services Platforms (CSP) market for the third year in a row! Download the 2023 report for overall ratings, willingness to recommend and other data points customers have provided on the featured CSP vendors. We also encourage you to sign up to leave an anonymous 5 star review here.
---
Laserfiche 11 Updates Self-Hosted
Forms Updates
Process approvers can approve tasks with buttons embedded in task emails. And user task properties are now available in the reminder emails to give user more context when completing tasks. you can also add multiple action buttons to forms. Process administrators now have more control over business process instances and can reopen completed and terminated instances and update file upload variables for in-progress instances. Forms Designer has more out-of-the-box JavaScript support that requires no coding, dynamic validation of field values and search and pagination in form tables and collections.
Audit Trail Updates
Forms Professional now includes Starter Auditing features which track user and process activities taking place through Laserfiche Forms. This helps organizations to meet compliance requirements when using forms to collect sensitive data. Administrators can now create a report on actions audited in Laserfiche Forms from the Audit Trail reporting page.
Laserfiche API
The Laserfiche API Server includes a RESTful API and language-specific libraries to enable developers to quickly build integrations with Laserfiche. Full details of all of the enhancements and fixes included in this update can be found in the KB at Software versions and fixes included in the Laserfiche 11 Download Package – Knowledge Base.
---
Release Notes and KB Articles for Self-Hosted Laserfiche 11
List of Changes for Laserfiche Forms 11 Update 3.
Performing a Partial Update with the Repository Export Client When Migrating a Self-hosted Laserfiche Repository to Laserfiche Cloud.
List of Changes for the Laserfiche Document Co-Authoring Host for Microsoft Office for Laserfiche 11 December 2022 Update.
Laserfiche Audit Trail 11 Frequently Asked Questions (FAQ).
Release Notes for Laserfiche Forms 11 Update 3.
List of Changes for Import Agent 10.4.0 Update 7.
Software versions and fixes included in the Laserfiche 11 Download Package.
List of Changes for the Laserfiche Document Co-Authoring Host for Microsoft Office for Laserfiche 11 December 2022 Update.
List of Changes for Laserfiche Forms 11.
Release Notes for Laserfiche Forms 11.