San Bernardino County, Department of Public Works
Geocentricity with Laserfiche
San Bernardino County is located in the southern portion of California and is the largest county in the contiguous United States by area with a population of over 2 million residents, making it the fifth most populous county in California.
The County of San Bernardino, Department of Public Works (DPW) became an ECS customer in 2018 by leveraging the existing Rio implementation at the County in the Department of Public Health, CA Children's Services, Health Information Technology, Preparedness & Response, Vital Statistics, Environmental Health, and Assessor's office. Their primary reason for purchasing Laserfiche was to convert all document images stored in FileNet to Laserfiche. Since the County was already using Laserfiche, DPW was able to add-on user licenses to that system to take advantage of tiered pricing and many components the system was licensed for.
DPW started with 12 Users, Weblink Public Portal and Import Agent. Early in 2020, DPW added an additional 10 Users, Forms, and 29 Forms Participant Users. Authenticated Forms participant users have read-only access to the repository and the ability to participate in Forms processes.
The Business and Technology Solutions (BaTS) Division of San Bernardino County/DPW provides technology services to approximately 400 internal DPW employees. They also establish access for external users such as other County Departments, other Counties, State of California and residents of San Bernardino County.
The DPW implementation project was conducted in two phases:
Phase 1 included installation of all software, consulting on Laserfiche templates and folders for the Survey Division, which was the first group to come on board. Training on scanning, importing documents, and search and retrieval through Weblink were also provided.
Phase 2 will include the conversion of document images stored in FileNet to Laserfiche for the Surveyor, Flood Control and Traffic Divisions.
DPW ESRI Integrations:
Completed Integrations

Surveyor Research ESRI ArcGIS Online WebApp*
Flood Control District Aerial Imagery and As-Built Facilities Plan Set WebApps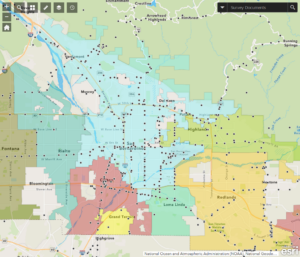 In-Process Integrations

WinCAMS Cost Accounting System with Laserfiche Forms
ESRI ArcGIS Online WebApp for Traffic Division Law Enforcement Incident Reports

Future Integrations

Additional ESRI ArcGIS Online WebApps
Cartegraph Operations Management System
DPW Completed Forms and Workflows:
Small number of Laserfiche Forms documents/business processes for QA/testing purposes.
Building and developing Laserfiche Forms for Accounts Payable invoice document approval Form and accompanying business process along with vendor invoice in the Laserfiche repository.
Laserfiche Workflows Built/Developed for batch importing and generating Laserfiche entries and associating SQL-based index/metadata records from existing Filenet System.
Laserfiche entry index/metadata information updates and entry organization workflows built/developed for repository management effectiveness and efficiency.
DPW Recommendations
"First of all, if you haven't already done so, set up a QA/test environment repository as it will, among other things, greatly assist with minimizing frustration and grief; especially when building/developing LF Workflows", said Keith Ricker, Business Systems Analyst II for DPW.
When integrating LF with an existing business process, thoroughly analyze the business process itself along with user needs and requirements. etermine end-user likes and dislikes of the business process in question and identify any and all suggestions as to how they believe it could be improved.
"Leveraging the knowledge, skill sets and experience of ECS Imaging, Inc.'s technical support and account management staff assists with providing successful implementation, application and utilization of Laserfiche products", he added.
Future Plans with Laserfiche
Realize Completion of the DPW's Primary Laserfiche Project (Migrating all Filenet-based Image Document Libraries into Laserfiche).
Continue enhancing and streamlining existing DPW business processes with Laserfiche technology and automation, etc.
Further development and implementation of ArcGIS online/Laserfiche-based solutions.
An additional County function looking to come on board soon is the Communicable Disease Section of the Department of Public Health.
DPW Laserfiche Rio System components:
WebLink Portal w/GIS integration*
Workflow
Forms Professional
Import Agent
Quick Fields
Connector
DPW Laserfiche Statistics:
~640,000 Laserfiche Entries/documents containing ~823,000 page images
~400 DPW Employees and Undetermined External Public Users
~300.00 GB of Data
Download Success Story: ECS Customer Success – San Bernardino County PW 2021